A volcano in Alaska's remote Aleutian Islands erupted on Sunday, tossing ash at least 20,000 feet into the air and prompting aviation alerts.
On Monday, the Federal Aviation Administration cited pilot reports and satellite data showing that the ash cloud had risen in height and spread rapidly northeast. The cloud is now as high as 37,000 feet, which is in the typical cruising altitude range of most jetliners.
This is likely impacting some flights across the Pacific, since modern jetliners can experience major engine malfunctions — possibly even engine failures — if they fly through clouds of volcanic ash.
The Pavlof Volcano, located about 600 miles southwest of Anchorage, near the community of Cold Bay, is one of the most active volcanoes in the Aleutians, having erupted several times during the past decade.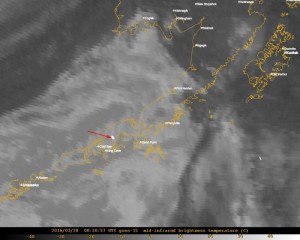 The Alaska Volcano Observatory has issued a "red" aviation alert and a warning for the Pavlof Volcano due to the new activitity.
According to the U.S. Geological Survey (USGS), the volcano is "a largely snow-covered, cone-shaped mountain" that contains a caldera, which is a large volcanic crater.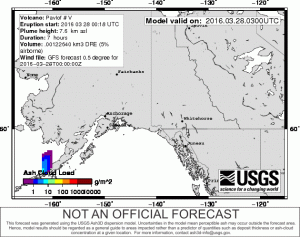 The volcano's name means "Paul" or "Saint Paul" in Russian, the USGS says on its website.
The volcano has a long history of significant eruptions, having sent ash clouds to nearly 50,000 feet in the past.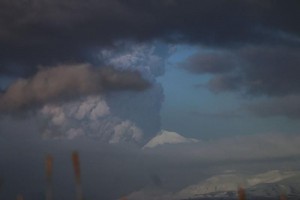 The observatory calls it "one of the most consistently active volcanoes in the Aleutian arc."
Officials continue to monitor the volcano through seismometers, satellite imaging techniques and web cameras, among other tools.
Story source: Mashable